LIVE: Pre-sale Instructions
Blog post description.
PROCEDURES
Manual Pre-sale: Instructions
Dear ToiletPaperCoin citizens,
We are happy to inform you that we have now begun our Manual Pre-sale! In the following letter we will like to provide you with instructions regarding the Manual Pre-sale.
Procedure
We are very happy to announce that you can now send your $ETH to the creator wallet address and in return you will receive the corresponding amount of $TPC. You will receive your $TPC in the following 24hours after your purchase. We kindly ask you to please double check and make sure you are sending your $ETH to the correct creator wallet address. All transactions will be visible on Etherscan and you will be able to see that no malicious affairs are taking place.
Creator wallet address: 0xfE5902006568fc4eB0814765aDb7426fEe88170C
Contract address: 0x7e143eED513dE3eF32D09f60b9bd7cbE6Dd5335C
***Important: please double check the wallet address before sending your amount. Beware of scammers. You can confirm the creator wallet address on Etherscan.
Length of the Manual Pre-sale
Our initial Manual Pre-sale will begin by the end of October 2022. And continue throughout the end of 2022. This might change depending on demand. Pricelist Prices are fixed to avoid any errors.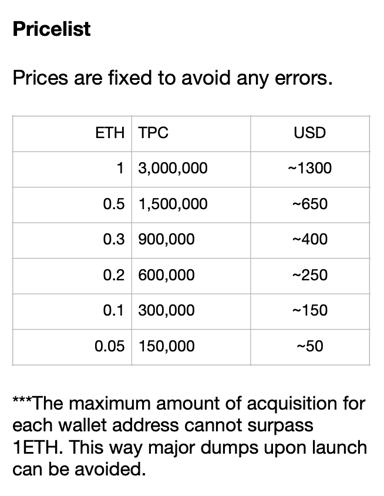 Yours truly,
ToiletPaperCoin Team